Executive Board and Board Members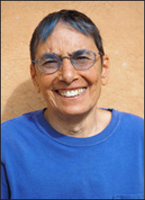 Treasurer: Ellie Fox
Ellie has been a board member of the Santa Fe HRA for seven years and has consistently held the trusted position of Treasure.

When Ellie first volunteered to join the board, she was surprised to hear a cheer right after announcing she was an accountant in her former, pre-retirement, life. "No one usually cheers for accountants", Ellie joked.

After immigrating to Santa Fe from the New York and New Jersey area over ten years ago, Ellie married her partner in 2012. They recently celebrated their 30th anniversary and are looking forward to their 50th. Ellie's wife has also spent many years as an activist.

Ellie is a proud parent of a long-haired Dachshund.

Ellie is extremely proud and excited to be a part of the SFHRA in our mission to support the LGBT community, and the HRA is fortunate to have her.
Want to get more involved?
Come to our public meetings, held the first Sunday of every month at 5pm in our Pride office at (new location) 141 East Palace Avenue, Suite 3 (lower entry on right side of bldg at Otero St), Santa Fe, NM. For more information, contact HRA president Richard Bell at 505-216-1595 or santafepride@gmail.com.